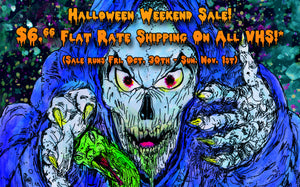 Halloween Weekend 2015 Sale!
Videonomicon is celebrating its Third Anniversary this Halloween (yes, we actually officially registered the business on Halloween day back in 2012)! We've ran a video store, which unfortunately is RIP at this time, and have put out six releases so far, and so in honour all all that we're offering some great bundle deals on our releases as well as a $6.66 flat shipping rate* on all of our VHS releases! So that means if you were to order all 6 VHS releases, shipping is still only $6.66*! This deal also works for the DVDs, but only if you're ordering them with a VHS, or both DVDs!
The sale runs starting tomorrow Friday October 30th through to Sunday November 1st, 2015, so if you want to grab a few of our releases while supplies last at a helluva deal, especially when a few of them are nearing OUT OF PRINT status, this is the time!
*Please note the $6.66 shipping offer is only available to customers within Canada and the United States. International rates will remain the same, however bundle deals are available world wide. Please allow an additional 48 hours processing time to handle orders during the sale and it being Halloween and all.*
---