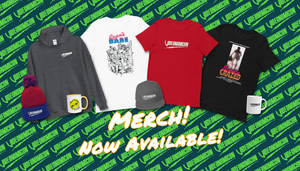 Merch is finally available!
We've been talking about it for far too long, but now it's here and finally you can get your very own shirts, hoodies, hats, mugs, and more from us here at Videonomicon!
Every wanted a Ryan's Babe shirt? Yup, now you can!
Drink your morning coffee in style while rewinding your video tapes? We've got you covered!
Top your noggin with a toque (that's Canadian for beanie)? Yep, even with a pom-pom!
Lots of awesome merch is now available to bundle up with our releases or purchase on their own! So check out all the new stuff here: https://store.videonomicon.com/collections/merch
---