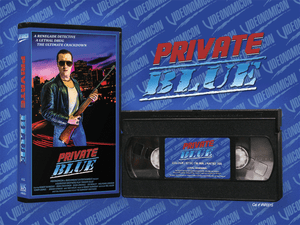 New Release Alert! PRIVATE BLUE arrives on VHS today!
Videonomicon brings you a lethal dose of action-packed thrills with The Burkosky Brothers' PRIVATE BLUE (2021), releasing exclusively on limited edition VHS today! This action comedy is "an obvious labour of love that captures both the 90's VHS thriller and scumbag 'private dick' genre*" and has that "lo-fi Troma energy*!"
When a new synthetic drug hits the streets of Edmonton causing death in the local sex work industry, ex-cop turned private detective Tony Blue (Robert Burkosky, Loan Shark Massacre) is hired by the Edmonton Police Force to track down the source of this mysterious and lethal drug.

But the assignment soon turns into a personal vendetta when Tony Blue becomes entangled in chaos while infiltrating the dangerous and depraved world of narcotics and human trafficking. Will this renegade detective track down who or what is responsible for this deadly new substance in time? Only fate will decide the outcome in this vicious game of cat-and-mouse leading up to what could be the ultimate crackdown!
Limited to just 25 hand numbered copies, get yours today before the heat is gone! Buy your own copy right here!
---