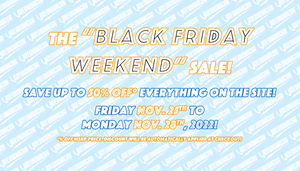 The "Black Friday Weekend 2022" Sale is COMING SOON!
Our annual Black Friday through Cyber Monday Sale is almost upon us! Save up to 50% off** everything on the site - DVDs, Blu-rays, VHS, merch - EVERYTHING! Sale runs from 12:01 AM CST Friday November 25th to 11:59 PM CST Monday November 28th, 2022!
And just in time for the holidays too, so not only save for yourself but stuff you friends and family members' stockings with everything Videonomicon!
Shop everything now: https://store.videonomicon.com/collections/all
**Save between 20% to 50% off MSRP. Discounts will be automatically applied to all items in your cart at checkout!**
---