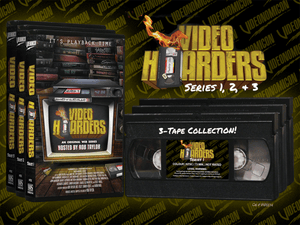 Video Hoarders: Complete Series Collection hits VHS today!
Videonomicon's latest VHS release - the 3-tape Complete Series Collection for the hit show VIDEO HOARDERS - is out today! Join host Rob Taylor, Australian filmmaker and VHS collector, as he takes a look at some of the most insane physical media collections in the world, searches the wild for the next rare find, and basks in the glory of VHS in this explosive documentary series.
This limited edition release is strictly limited to 30 hand-numbered sets, with each tape featuring a handy episode guide insert so you can easily cue up on your VCR to which ever episode you wish to view!
Grab your own copy today and become a Video Hoarder yourself! Buy it here!
---