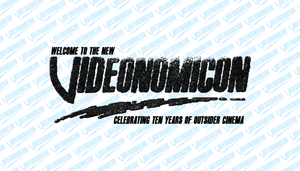 Welcome to the NEW Videonomicon!
We're celebrating 10 years this October (on Halloween to be exact!) and what better way to turn over a new decade than a website facelift and some new store products! We hope everyone's been keeping well through the last while, especially with the shifts in our lives due to all kinds of world-changing events, but know that we here at Videonomicon are still passionate about outsider cinema and helping to preserve lost, forgotten, and unique films from the filmmaking fringes!
So hit the road with Ryan, shuffle down those hallways with the Fiend, and grab some crazy flicks on Blu-ray, DVD, and limited edition VHS! Or some new merch! Or a VOD rental! We've also got some new releases and exciting things in the works too, so stay tuned and stay up-to-date with all things Videonomicon by signing up for our Membership (aka newsletter) where you'll hear about those things first, which you'll find the sign-up for at the bottom of our brand new site!
Thanks again for supporting us over the past decade, or if this is your first visit to the site - Welcome! And here's to more years and more films for the roster and your VCR or optical disc player!
Your pals,
Tyler & Shawn
Videonomicon
---